Enjoy playing the classic games you love from the past!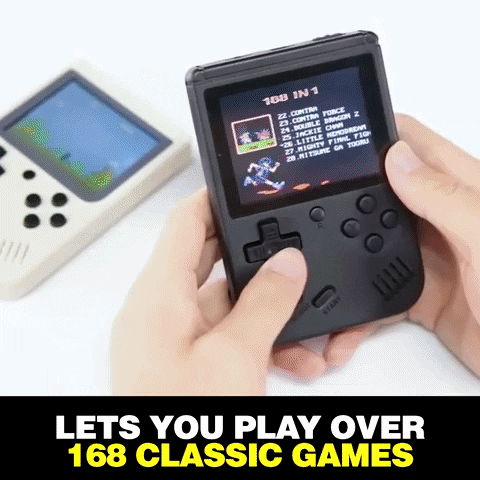 Revisit your happy childhood years once more with the 168 Classic Games Handheld Retro Console. This tiny box includes all the famous titles you love playing in the past and will surely keep you occupied for hours on end.
Benefits:
Revisit your childhood memories. This retro gaming console serves as a veritable time machine. It whisks you back to those carefree years when your greatest concern was whether or not you would ever beat your sibling or friend's top scores. Lets you relive those fun-filled moments.




168 games to choose from. From Mario Bros., Contra, Adventure Island to Donkey Kong, Pacman, Goonies, Tetris, and more, this console is packed with your all-time favorite classic games. It'll keep you busy and entertained for hours!    
Easy to use & bring anywhere. With an HD 3-inch screen and crisp buttons for superb play. Light and slim, you can easily slip it in your pocket and take it anywhere you go.




Connects to TV. Using an AV cable, you can even connect it to your TV to enjoy a wider screen display or simply share the fun with others too.
Great gift. Available in 5 fun colors and can be played with a gamepad (optional and sold separately) for a 2-player friendly competition with anyone, it's a great gift for the nostalgic gamers and console collectors in your life.
NOTE: Please allow 15-25 Business Days for shipping
Click YES, I WANT IT NOW to grab yours today!
Product Specifications: 

Package includes: (1) 168 Classic Games Handheld Retro Console (with or without gamepad)
Material: ABS Plastic
Screen size: 3 inches
Color: Yellow, White, Black, White Transparent, Black Transparent
Powered by: 1 x 600 mAh lithium battery (included)
Usage time: 6 hours