A handy, reliable helper for your tool chest right now!



Mitered corners and butt joints are tricky to hold when gluing or nailing in place. No matter how sure you are that everything is lined up, a simple bump or shake can ruin it instantly.
The 90 Degree Corner Clamp will fix that problem for you. This clamp can hold securely two pieces of wood or other materials together to hold a right angle. It'll make your work faster, and lets you build corners and joints with confidence all the time.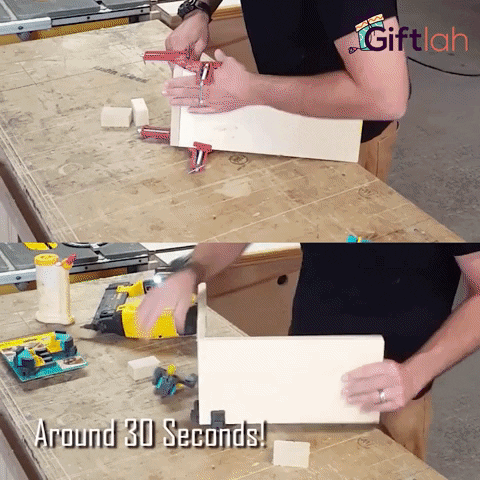 Features and benefits:
Perfect mounting aid for gluing, screwing or nailing boards and frames together
Allows you to hold 2 pieces together in perfect right angle every time
It's easy to operate and hold pieces securely, making it a breeze to build corners and joints with confidence
Great for woodworking, fish tank fixing, cabinet, drawer and furniture pieces connection, picture framing reinforcement, small wood projects holding, etc.
Best gift for carpenters, furniture maker, handymen, DIYers and hobbyists
Product Specifications: 
Material: Plastic

Total length: 78 mm/ 3.1 inches
Maximum width: 85 mm/ 3.3 inches
Maximum Height: 51 mm/ 2 inches
Clamping range: 5 – 22 mm/0.19 – 0.86 inches, 10 – 22 mm/ 0.39 – 0.86 inches 
Weight: 1 unit ~ 105 g/ 3.7 oz., 4 unit ~ 323 g/ 11.4 oz.
Color: Orange + Black
Package includes:
1 or 4 pc of 90 Degree Corner Clamp
NOTE: Please allow 15-25 Business Days for shipping
Click YES, I WANT IT NOW to grab yours today!