No more worrying about car thieves!
Protect your precious car from being stolen with the Anti-Theft Steering Wheel Lock. As its name suggests, it locks the steering wheel so the wheel can't move, leaving your vehicle nearly impossible for a would-be thief to operate. It's a visual effective deterrent that will give you peace of mind.
Benefits: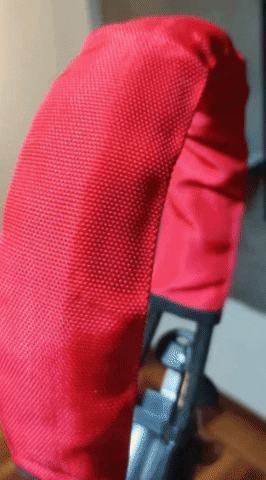 Physical barrier. Made of a heavy chunk of metal, it stops your steering wheel from moving, helping protect your vehicle from theft, as it's extremely hard to crack.




Prevents turning. Even if a thief did decide to hop into your car and drive away without cracking the wheel lock, the car will be impossible to properly maneuver. Simply put, the thief wouldn't be able to turn the wheel far enough to make any turns or even keep the car safely in a lane.




Easy to install. Simply loop it around your steering wheel and fasten in the driver's seatbelt, and you're done. You can unlock it using the included keys.
Visual theft deterrent. Not only does it prevent the wheel from moving, it's also a great visual deterrent that will likely keep thieves at bay. It'll help make your car much more difficult to steal, causing would-be thieves to look elsewhere.
Peace of mind. If you worry about your car every time you park it, this steering wheel lock will help put your mind at ease. Fewer worries, less stress, healthier you.
NOTE: Please allow 15-25 Business Days for shipping
Click YES, I WANT IT NOW to grab yours today!
Product Specifications: 

Package includes:
1 x Anti-Theft Steering Wheel Lock
2 x Keys
Material: Steel + PVC + Copper
Length: 57 cm/ 22.44 inches
Color: Red + Black