Learn how to pick locks quickly & easily!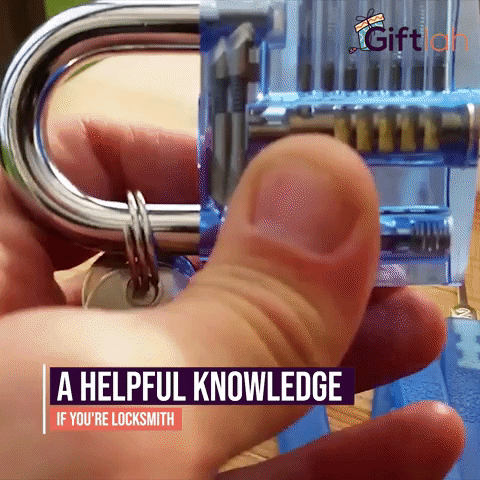 The Clear Practice Padlock Set is a great way to learn how keys and locks work. This kit, which is composed of a see-through padlock, keys, and various lock picks and tension tools, allows you to see actual pin manipulation and help build your sense of feel for the movement of the pins.  
Benefits:
Know how keys and locks work.

 

With this set, you can observe how a key opens a padlock and how the mechanism works inside. And by using the pick locks and tension tools, you can learn to pick a lock faster, easier and with better control.




Useful, fun skill to master.

 

It's a useful knowledge that will come in handy if you're trying to be a locksmith or simply lost or broken your keys. Never worry getting locked in your home or car again.
Easy to use.

 

First, use the included key to observe how its profiles latch to the cylinder to unlock the pins and open the shackle of the padlock. When you've memorized that part, you can finally use a pick lock and tension tool to learn how to simulate the key's function to open the padlock.



Different sets to choose from.

 

With over 12 sets to choose from, there is a kit perfect for a beginner or expert lock picker. Simply choose one that will match your present skills.
NOTE: Please allow 15-25 Business Days for shipping
Click YES, I WANT IT NOW to grab yours today!
Product Specifications: 

Package includes: (1) Clear Practice Padlock Set
Material: Acrylic + Alloy + Brass Core
Padlock Size: approx. 7.8 x 5 x 2.3 cm (L x W x H)
AB Key Lock Size: approx. 6.5 x 3.4 x 2 cm (L x W x H)
Padlock Color: Transparent, Blue
Padlock Cover: Black
Key type: Flat Key