Feed Fish Automatically!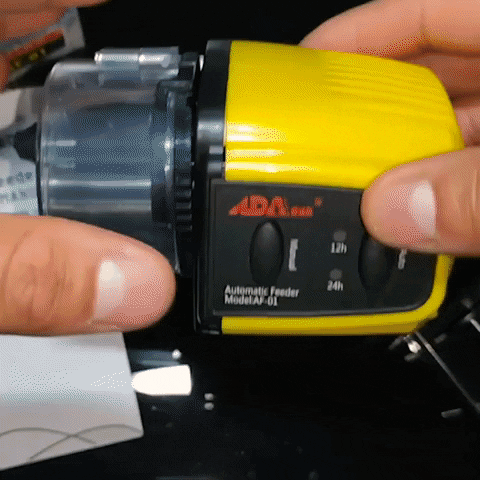 The Digital Automatic Fish Feeder with Timer will allow you to automatically feed your fish at the times you set! Never again will you have to hire someone to feed your fish while you're on holiday or forget to feed them while you're at home. This ensures they get the right amount of feed at the right times.
Benefits:
Feed fish automatically. Always forgetting to feed your fish? The Digital Automatic Fish Feeder with Timer will automatically feed them for you! This is great for when you're going on a holiday, are always out for work, or simply because you want to streamline the way you care for your fish.
Dispenses just the right amount of feed. Not all fish owners may know this, but overfeeding your fish can lead to bloating, illnesses, and even death. So when you forget whether you've fed your fish or not, it can spell trouble. Thankfully, this dispenses the right amount of feed your fishes need to stay healthy and happy. How much it dispenses can be set by you, simply by setting the switch on the feed container box.
Easy to install. Install using one of two ways! You can either affix it to a slot on your aquarium tank and rotate the knob tightly to screw it on. You can also stick it onto the tank with the included adhesive tape, making sure to correctly position the feeder box's outlet. 
Low power consumption. No outlet needed- your Digital Automatic Fish Feeder with Timer only needs 2x AAA batteries (not included) to work! It runs on very low power while staying efficient.
Built to last. The Digital Automatic Fish Feeder with Timer is built to be tough and long-lasting thanks to the top-notch plastic used in its construction. Sure to see a long service life!
Usage:
"Manual" button: To feed fish manually, press once.
"Auto" button: To feed fish automatically, press "Auto" once. The 24h light will be switched on- this means feeding starts immediately once and restarts after 24hrs. To switch to 12h, press "Auto" once again.
Turn off Auto feeding: Press "Auto" until both 12h and 24h lights are turned off.
Feed usage: Can be used with granule-type fish food. To refill, adjust switch, remove food box and fill with up to 30g of food fish. Place food box back into the device and adjust food mouth to suit your needs.
NOTE: Please allow 15-25 Business Days for shipping
Click YES, I WANT IT NOW to grab yours today!
Product Specifications:
Package includes: (1) Digital Automatic Fish Feeder with Timer, (1) Adhesive Tape
Material: Zinc Ally + Copper

Material: Plastic

Color: Yellow + Black

Power Supply: 2pcs 1.5V AAA batteries (Not Included)


Size: Approx. 70 x 65 x 105mm / 2.8 x 2.6 x 4.1inch




Weight: Approx. 220g