Instant Multiple Monitor Display



With the Dual Monitor Side Mount Clip, you don't have to buy an extra monitor to have a second display for your Mac or PC. It will instantly turn your phone or tablet into one by simply clipping them to the side of your computer or laptop!
Key benefits:
Turns phone, tablet or iPad into instant second display
Allows you to have multi-screens perfect for working or gaming
Easy installation – just clamp on both screens and you're good to go
It easily extends your screen, increasing productivity and multitasking
Perfect for home workstation, office or on-the-go
Compatible with any modern laptop, notebook or Ultrabook as well as most tablets on the market today including MacBook, MacBook Air, Acer, Asus, Dell, HP, Chromebook, and Lenovo, iPad 1/2/3/4, iPad Air, iPad Mini, Nexus 7, 9 and 10, Samsung Galaxy Tab and Note Tablets, Asus, Acer, and Lenovo Tablets (with screen size up to 10.3" and the weight up to 1.7 lbs.)
Small, compact, and lightweight, it's easy to stow in your bag and bring on travels, special events, meetings and presentations, and more
Great gift for students, IT programmers, web developers, Vloggers, office workers, virtual assistants, writers, businessmen, etc.
Features:
Made of virtually indestructible ABS plastic
Has EVA foam on both sides to protect both screen from damages
No-screw or -adhesive installation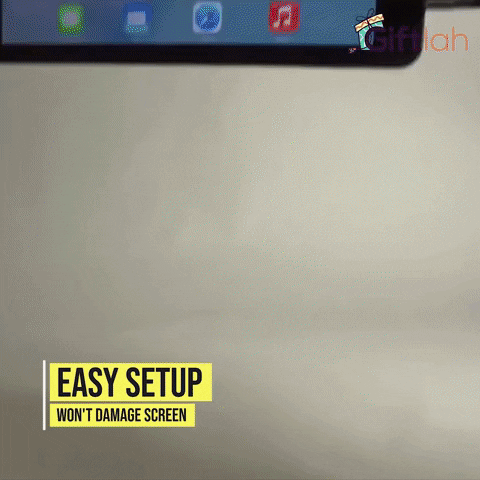 How to use:
Loosen the triangle lock so the plates can move freely.
Clip the right side to your laptop, before clipping the left side to your phone or tablet.
Tighten the triangle lock to ensure it securely grips both devices. Done!
Product Specifications: 

Package includes: (1) Dual Monitor Side Mount Clip
Material: ABS Plastic + EVA Foam + Metal
Size: 3.5 x 2.9 x 1 inches
Color: Black
NOTE: a) we recommend using two clips for devices that are heavier than 1.25 pounds or longer than 10 inches. b) The clip can't mount items thicker than 0.43 inches.
Please allow 15-25 Business Days for shipping
Click YES, I WANT IT NOW to grab yours today!