No more unruly, frayed rolls of cling film!




With the EasyWrap Cling Film Dispenser, you never have to wrestle with unruly rolls of clings film anymore. Dispenses and cuts just the right size of cling, it'll make food wrapping quick and convenient.
Benefits:


No more unruly cling film.

Unlike commercial wraps that serve crumpled foil or plastic wrap,

the EasyWrap dispenses smooth, tangle-free cling film every time.




Seal food in a snap.

EasyWrap

dispenses

cling film

in an instant

so you can preserve leftovers or seal snacks, sliced fruits, and other food

right away

.

They stay

fresh for longer and away from dirt and germs.
Easy to operate.

No more

struggling to find

the end of the cling's roll. With this clever tool, all you need to do is

pull

the cling film and swipe the button to cut

.

And you're done.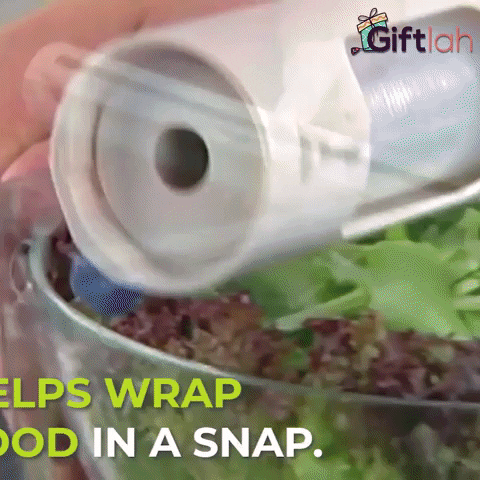 Safe fo use.

Commercial wraps have serrated blades in the open. The EasyWrap's blade, on the other hand, is

concealed and recessed to protect your fingers from cuts.
Refillable.

Has

a

clear

window top,

the EasyWrap easily

show

s

if you ran out of plastic wrap already. To refill, simply insert any roll of plastic wrap in the elastic loaded box.

It can a

ccommodate standard-size rolls that are up to 33 cm/13 inches in length.
Magnetic and reusable.

Has magnets at the bottom, you can hang it on your fridge and other metallic surfaces so it's easier to find.

Made of a durable, compact ABS plastic,

the EasyWrap is

designed

to last a lifetime.
NOTE: Please allow 15-25 Business Days for shipping
Click YES, I WANT IT NOW! to grab yours today!
Product Specifications:
Package includes: (

1

)

EasyWrap

Cling Film Dispenser

Material:

ABS Plastic

Size:

35.5 x 6 x 5 cm

Color:

Pink, Blue, Grey