Get arms of steel with this wrist exerciser!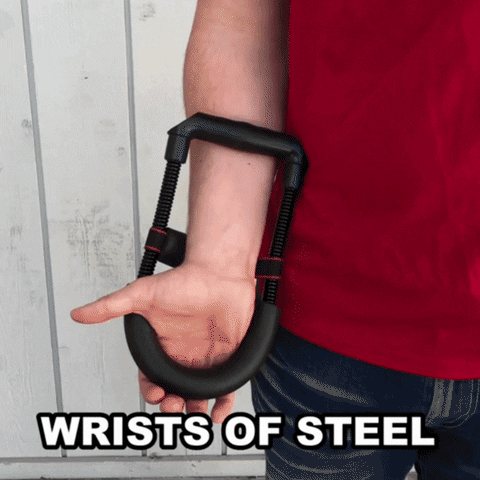 There are lots of reasons why we developed a weak wrist. It may be due to old age, injury, or recent surgery. If you want to improve your wrists' strength again, proper exercise equipment like the Forearm Strengthener Wrist Exerciser can help. This device offers a simple stretching workout guaranteed to make your wrists and forearms stronger than ever.
Benefits:
Make your wrist & forearm stronger.  Weak wrist means a weak grip too. If you find yourself having trouble lifting even simple objects, exercising with this device will help strengthen your wrist flexors and extensors. Soon you'll have a better grip to improve your range of motion.



It enables you to do more.  It's not only dedicated for wrist strengthening, rehabilitation, and recovery, it also enables your wrists and forearms to become powerful enough to do the things you love such as tennis, boxing, yoga, gymnastics, arm wrestling, weightlifting, or bonding with and carrying your child in your arms.  
Easy to use. The wrist exerciser's stabilizer pad is adjustable to fit all arm sizes. It also has a thick foam pad for extra comfort and cushion. To use, simply slip your arm inside the loop, grab the handle, and flex. Within days of use, you'll see a huge improvement in your forearms' muscles.



Great gift. Designed to improve strength and power in the wrists and forearms, it's the perfect gift for athletes, sports buffs, and other people who need their wrist stronger.
NOTE: Please allow 15-25 Business Days for shipping
Click YES, I WANT IT NOW! to grab yours today!
Product Specifications:
Package includes: (1) Forearm Strengthener Wrist Exerciser
Material: Steel + ABS Plastic + Foam
Size: 70 x 150 x 30 mm/ 10.6 x 5.91 x 1.18 inches
Weight: 423 g
Color: Black