Make any party or drinking sesh livelier



A drinking sesh is even more fun when you add a cool game to it. And that's what this Fun Cap Launcher Bottle Opener is all about. Not only does this gun-shaped opener pop open bottles, it also turns discarded bottle caps into flying projectiles that you can fire over sixteen feet away!
With this device, you don't have to throw bottle caps yet. You can make them instant ammo for a fun firing game or simply to annoy anyone around you.
It's so fun to use. Simply pull the ejection slide, pop up a bottle open to get the cap, and pull the trigger to fire away. Designed like a small firearm, it's easy to grip and hold for better aiming.


Able to launch bottle caps into the air and shoot them at over sixteen feet, it creates a cool drinking game for you and your buds. Use it to hit empty bottles or shoot caps on cups and see who the best shot is.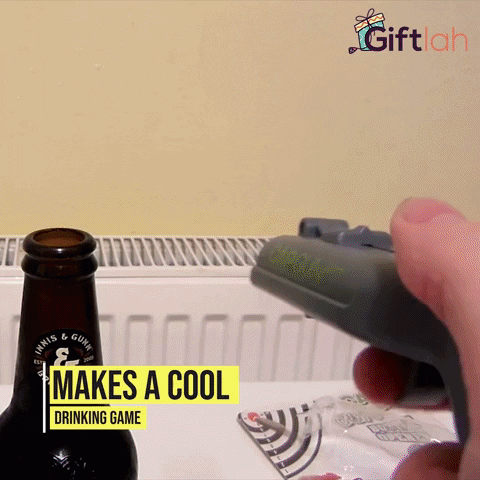 Can open bottles and offer a fun game to make parties or drinking events livelier, it makes a great gift for drinking buddies, party lovers, and game enthusiasts.
NOTE: Please allow 15-25 Business Days for shipping
Click YES, I WANT IT NOW to grab yours today!
Product Specifications: 

Package includes: (1) Fun Cap Launcher Bottle Opener

Material: ABS Plastic + Metal + Magnet
Size: 125 x 60 mm/ 4.9 x 2.4 inches
Color: Red, Gray