Never have to tie shoelaces again!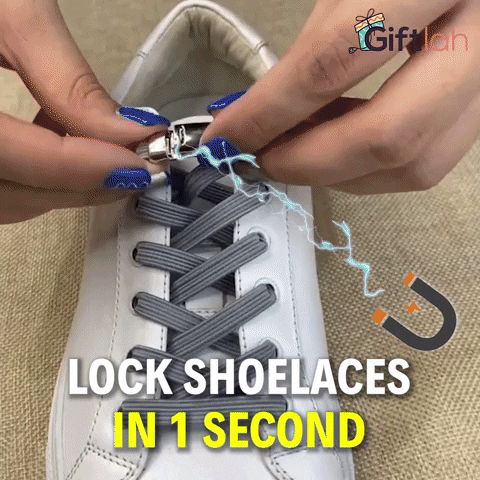 We've all been there. You're walking along when suddenly your shoelaces come untied for some reason. Cue the awkward moment where you've got to find a place to stop, bend down, and nonchalantly re-lace them. If you're tired of this scenario, then it's time to use these Magnetic No-Tie Shoelaces.
Benefits:
No more tying shoelaces. Boasting of a magnetic buckle, this closure system allows you to lock shoelaces in a second. You never have to knot laces in your life again and wearing and removing shoes is simpler than ever.




No more shoelaces accidents too. Loose shoestrings can be trapped on escalators or treadmills, causing serious injuries. With the Magnetic No-Tie Shoelaces, these worries shall be a thing of the past. The durable magnet buckles ensure that the laces remain in place.
Can match your favorite shoes. The magnetic buckles and shoelaces come in  a variety of colors so it will not only complement your favorite kicks but your personality and mood as well.




Great gift. Makes wearing shoes insanely easy and prevent shoelaces mishaps, they're a great gift for the elderly, parents with active toddlers, sports enthusiasts, athletes, and skaters.
How to use:
Wear your shoe to ensure a proper fit. Next, insert the shoelace in the hook eyelets.
Cut off the extra lace. Then burn the end with a lighter.
Finally, fold the burnt end and attach it to the magnetic buckle. Screw it tightly and you're done. Repeat the process to the other shoe.
NOTE: Please allow 15-25 Business Days for shipping
Click YES, I WANT IT NOW to grab yours today!

Package includes:
SET 1
2 x Shoelaces
2 x Magnetic Buckles
SET 2
2 x Magnetic Buckles
4 x Screws
1 x Screwdriver
Product Specifications:
Material: Polyester + Metal
Shoelaces Sizes: 100 x 0.7 x 0.2 cm
Shoelaces Color: White, Black, Beige, Sky Blue, Green, Pink, Purple, Gray, Red Brown, Red, Yellow, Orange, Yellow Fluorescent, Royal Blue, Rose Red, Army Green, Light Coffee, Navy Blue
Buckle Color: Gold, Silver, Nickel