The quickest way to perfectly shaped meatballs!



Making meatballs is now fast, safe, and mess-free, thanks to the One Press Meatball Maker. This ladle-shaped meatball maker has a hole in the middle for creating perfect meatballs every time. Just press and scape and you have round and evenly sized meatballs in seconds!
Benefits:
Create meatballs in seconds. This time-saving kitchen tool is designed to make your homemade meatballs easier than ever! Just press it to a bowl of your seasoned ground meat and scrape. It helps you cook yummy meatball dishes in no time!
Germs-free and mess-free. You don't have to form and shape meatballs by hand anymore. With this kitchen tool, your hands are safe from greasiness and your meatballs from contracting bacteria and germs.
Safe and durable. Made of superior stainless steel, this utensil is BPA-free, temperature resistant, and rust-resistant.  A handy kitchen helper that's reusable and will last a long time.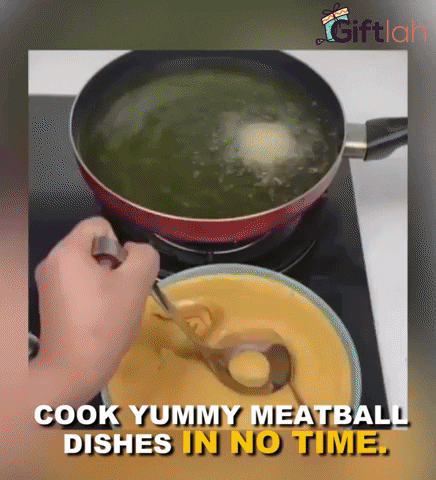 Multipurpose. Shaped like a ladle, you can also use it to stir food when cooking. It's also perfect for making fish balls or cookie dough, making it a nice gift for moms, meatball lovers, chefs, and kitchen enthusiasts.
Easy to clean & store. Designed with a non-stick surface, this smart meatball maker is easy to clean in your dishwasher. It even has a hole at the handle so you can hang it on kitchen racks for easy access and storage.
NOTE: Please allow 15-25 Business Days for shipping
Click YES, I WANT IT NOW to grab yours today!
Product Specifications:
Package includes: (1) One Press Meatball Maker
Material: Stainless Steel
Size: about 24 x 6.5 cm
Color: Silver