Save closet space up to 75%!



Not enough closet space for all your garments? The Vacuum Storage Bags with Hand Pump is the answer! This storage solution allows you to vacuum-seal clothes, blankets, comforters, and more to give you extra space. It'll even help keep your closet neat and tidy.
Benefits:


Maximizes closet space. Using the vacuum bags to compress garments increases your closet space up to 75%. Your closet won't look overcrowded and you still have enough room to put more items.
Great protection too. Not only do the vacuum bags provide you extra space, they're a great way to keep your clothes, blankets, pillowcases, and comforters safe from water, dust, moist, bugs, mildew, and odors.
Keeps items fresh and clean. Features a double zipper and clip closure, the vacuum bags ensure an airtight and watertight seal to help keep garments stay fresh and clean for longer.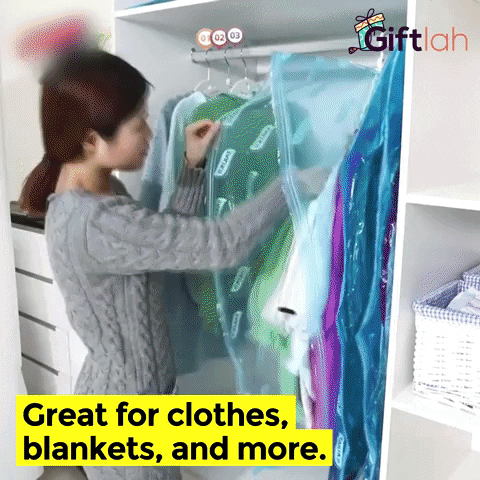 Available in different sets. The vacuum bags come in different sizes and include an easy-to-use hand pump to cater to different storing needs. They're a practical, helpful gift for students, moms, and frequent travelers.
How to use:
1. Insert a cloth inside the bag. Then slide the clip to close the bag.
2. Next, attach the hand pump's tip to the bag's valve and start vacuuming air. When you're sure all air is extracted, close the valve lid again. And you're done. Item is ready to be hung or kept in the closet.
NOTE: Please allow 15-25 Business Days for shipping
Click YES, I WANT IT NOW to grab yours today!
Product Specifications: 

Package includes:
3 OR 7 x Vacuum Storage Bag
1 x Hand Pump
Bag Material: PA + PE
Pump Material: Plastic
Bag Size:
Small ~ 70 x 45 cm/ 27.6 x 17.7 inches
Large 80 x 56 cm/ 31.5 x 22 inches
Jumbo ~ 100 x 80 cm/ 39.4 x 31.5 inches
Capacity: 200L
Bag Color: Blue
Pump Color: Black